SeaPai ShiPoE switch is struck strongly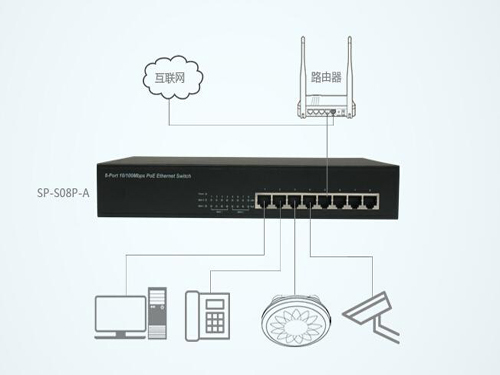 With the rapid development of the Internet, more and more Internet-related devices are gradually entering people's lives. Security cameras, network IP phones, and wireless APs that enable people to access the Internet are everywhere. All of these have become a part of life, and the power supply problem of these devices has always been a headache. Each monitoring requires a power supply for each AP. This inconveniences wiring and adds a lot of costs. And it is a lot of buildings that have already been built. In the later period, monitoring and wireless are added. The points of equipment do not necessarily have power distribution jacks. At this time, power supply has become an urgent problem to be solved.

In order to solve the power supply problem, SeaPai introduced a unique POE-powered switch. POE refers to some IP-based terminals (without any changes to the existing Ethernet Cat.5 cabling infrastructure). Such as IP telephones, wireless LAN access points AP, network cameras, etc.) can also provide DC power supply technology for such devices while transmitting data signals.

POE application plan:

There are two POE-powered standards: IEEE802.3af (15.4W) and IEEE802.3at (30W). POE-powered switches currently on the market usually support only one standard, and the POE-powered switches introduced by SeaPai (Shipai) are completely Conforms to national standards and is perfectly compatible with both standards, so that you do not need to worry about compatibility when you purchase.

POE product features:

The SeaPai POE power supply switch can automatically detect and supply powered devices that comply with the IEEE 8.2.3af/at standard. The standard dual-mode automatic identification output not only meets the low-power 15.4W power supply requirement, but also meets the high-power 30W power supply requirement. The 802.3at standard is perfectly supported. Compared with the traditional 802.3af standard, it not only expands the POE application field, but also increases output power by more than 2 times.

SeaPai POE power supply switch adopts industrial power supply. With good electromagnetic compatibility and stronger anti-interference ability, it is more reliable than traditional external power supply.

The SeaPai POE switch supports the port power priority function. When the power of the powered device exceeds the maximum output power of the POE power supply itself, the system starts the priority mechanism and shuts off the power supply to the port with low priority. This ensures that the POE power supply system can supply power normally.

The SeaPai POE switch is easy to use, requires no configuration, and is plug-and-play. It can flexibly expand home and office networks without being restricted by power line layout.

Product Category:

SeaPai (Shipai) existing POE switches include: 8-port unmanaged POE switches, 5/8/16/24-port unmanaged POE switches, 8/24-port Gigabit managed POE switches, 8/ 16/24 port 100M intelligent management POE switch, 24-port 100M+2 optical port intelligent management switch, 24-port Gigabit+2 optical port managed switch, 24 port 100M+2G COMBO WEB management POE switch. A wide variety of product categories allows SeaPai brand POE switches to adapt to a variety of different environments.

SeaPai (Shipai) is a well-known network equipment manufacturer, adhering to the great vision to help you easily connect with the world, and continuously forging ahead to eliminate all network concerns for you. In this highly competitive industry, the application of information technology has a crucial influence on social development. SeaPai has been committed to the development of the Internet industry and has provided comprehensive Internet solutions for users in all walks of life!
Wheel Balance Weights are to balance the tire and wheel assembly. It's usually made of Iron, Zinc or Lead. It's highly important to make sure the wheels are balanced. All wheels and tires need balancing.They are not in perfect balance even when brand new. Wheel Weight will keep your ride smooth. You'll get lots of issues with unbalanced tires at highway speeds.
wheel-weight.com offers wheel balance weights products. About 65% of these are wheel parts, 5% are other auto parts. A wide variety of wheel balance weights ( Fe Balance Weight, Zn Balance Weight , Pb Balance Weight,Truck Wheel Balance Weight ) options are available to you, such as wheel weight, Tire Valves , and Tire Repair And Tools . You can also choose from free samples, paid samples. There are wheel balance weights suppliers, mainly located in Asia. Wheel balance weights products are most popular in Western Europe, North America, and Domestic Market. You can ensure product safety by selecting from certified suppliers, including ISO9001, ISO/TS16949, and Other certification.
Wheel Balance Weights
Wheel Weights,Wheel Balance Weights, Fe Balance Weight , Zn Balance Weight
Ningbo Heyu Tire Repairs Co., Ltd. , http://www.autorepairstools.com