China Customized CNC Machining Parts for Automation Industry
Tolerance:
Follow ISO 2768
Surface Treatment:
According to Customer Requirements
China supplier custom CNC machining parts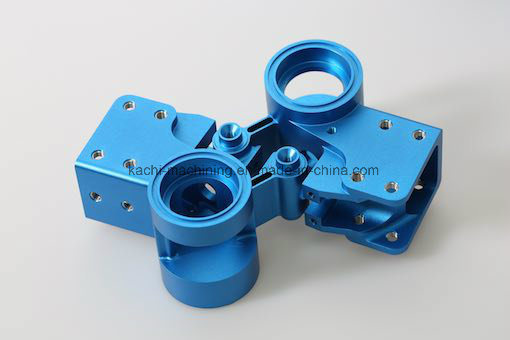 Complex Part CNC Machining
Product
Complex CNC machining service
Material
1) Aluminum
2) Brass &Â copper
3)Stainless steel
4) Low carbon steel
6) PEEK/PEI/POM/Nylon
Finished
1) Anodizing
2) Powder Coating
3) Plating (Chrome, Nickel)
4) Wet Painting
5) Polishing/Brushing
Tolerance
±0.01mm
Drawing Formats
PDF/CAD/IGS/STP/DWG/DXF
Quality
Follow the standard of ISO9001: 2015
Trade Terms
FOB, CIF, EXW
Port
ShenZhen, or as client's requirement
Shipping
By sea or by air, or as client's requirement
Packing
Inner box, many boxes/master carton or as customer's requirement
Delivery time
Fast sample: 3Â days; Sample: 7-10 days; Production: 2-4 weeks;Â 
FAQÂ 
What tolerances can you achieve? 
There is not a given set of tolerances that fits all processes and materials. In every case, the final tolerances on your part will depend on a number of factors, including but not limited to: 
Part size
Design geometry
The number, type and size of features
Material(s)
Surface finish
Manufacturing process
We will review your design and provide a design for manufacturing review, pointing out any areas where we may not be able to achieve your desired tolerances. It's helpful to us if you can specify which areas in your design have critical tolerances that must be met and which can be slightly modified if needed to reduce time and costs involved. Here are some general tolerance guidelines: 

CNC Machining
Our general tolerances for CNC machining of metals is DIN-2768-1-fine and for plastics DIN-2768-1-medium. Tolerances are greatly affected by wall thicknesses, material choice, and geometry, so we will seek to advise as to achievable tolerances for each part. We pride ourselves on wishing to help our clients achieve their desired tolerances that are better than DIN-2768-1, but we work on a "best effort basis only" if the tolerances stated are tighter than our stated standards. The reason we refuse to be held accountable for very tighter tolerances is that we are a factory and very tight tolerances present a huge risk due to the nature of our work. 
All manufacturing and technical specifications need to be clearly specified in the 2D drawings in order to be followed. 
How do you ensure your quality? 
In order to deliver high-quality parts every time, we've instituted the following steps to ensure you get parts that meet and exceed your expectations.  
 
A full design for manufacturing (DFM) review upon initial inquiry. This will be performed by our skilled engineering team, who will alert you to any issues before work begins. 
All incoming material (metal and plastic) with material certificaion, and also we can provide third party inspection certification if need. 
In-process and first article inspection. 
Comprehensive final inspection with full report. 
How long does a quotation take? 
In most cases, we respond within a couple of days of receiving an RFQ. However, there may be situations when we must source material from an external supply and therefore the quotation may be delayed accordingly. 
How can I pay Kachi? 
Kachi accepts payment in two ways:Â 
Bank to bank wire transfer. Kachi has accounts in Hong Kong and DongGuan, China. 
Kachi can send you a PayPal invoice and you can use your PayPal account or credit card to pay. 
Can my company get credit with Kachi
? 
Except in very exceptional circumstances, all new customers must pay in advance for the first three orders, after which we will consider giving 30 days credit. Except in very special cases, all tooling orders require a 50% deposit in advance, even for clients who have credit terms. Typically the balance must be paid after approval of samples. Terms are negotiable with each individual customer. 
Having been in brush making industry for more than twenty years, and on the basis of international most advanced brush making technology and our own patented inventions, Haixing brush machines are stable and reliable and have been well accepted by the markets. Haixing brush machines are used to produce all kinds of brushes. 5 axis CNC brush machines are suitable to produce brushes with complex shapes and can achieve a high production output of quality brushes. Clothes washing brushes, dish wash brushes, toilet brushes, paint brushes, car wash brushes, hair brushes, brooms, disc brushes, roller brushes, etc. can be made by our machines.
5 Axis CNC Brush Machine, 5 Axis Brush Machine, High Speed Brush Machine, High Speed Brush Making Machine
Yangzhou Haixing CNC Brush Machine Co., Ltd. , https://www.brushmachine.nl