Gantry milling machine accuracy and efficiency
Gantry Milling Machine is the most widely used machine parts processing equipment in recent years. Gantry milling machine has high machining accuracy and high production efficiency.
1 High machining accuracy
Usually gantry milling machine can ensure the workpiece machining accuracy, in addition, the numerical control processing can avoid the error of manual operation, and chamfer size uniformity, but also can use software to compensate precision greatly improving the product quality.
2 High production efficiency
Cnc Gantry Milling Machine can effectively reduce maneuver time and auxiliary time for machining the part. Good structural rigidity allows CNC Milling Machine large cutting amount of strong cutting, effectively saving time.
CNC Vertical Turning Lathes/Vertical Turning Lathe VTL Machine including CNC VTL Machines / CNC VTL Machine and CNC VTL Lathes ,is suitable for finely and roughly all kinds of ferrous, nonferrous metal workpiece for high speed steel's tools and hard alloy tools. The machine can be carried out turning inner&outer cylinder surface,cone surface, grooving, drilling,tapping and reaming etc process machining.
Vertical Turning Lathe VTL machine model: C5112/C5116/C5118/C5120/C5123/C5125/C5126
Maximum turning diameter: 1250/1600/1800/2000/2300/2500mm
Maximum height of workpiece: 1000/1000/1000/1200/1300/1350 mm
Maximum weight of workpiece 3.2 / 5 / 5 / 6 / 8 / 10 t
Features of Vertical turning lathe VTL machine:
1 The table adopts thrust ball bearing with high accuracy for rolling guideway.
2 Spindle radial is performed NN30 type double row cylindrical rolling bearing. So it can improve the rotary precision and load capacity of the table.
3 The rail head is adopted sliding leadscrew bearing for transmission in horizontal and vertical movement.
4 The VTL machine is adopted module design. It can combined optionally by customer's requirement.
5 RAM is made from QT600-3 nodular cast iron
6 High-precision gears are with low noise and stable operation
7 The electrical equipment of machine is controlled by PC. So it is high reliability.
8 Semi-closed guard and chip conveyor are equipped for machine.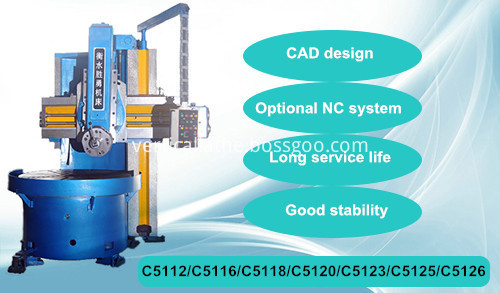 Vertical Turning Lathe VTL Machine
Vertical Turning Lathe VTL Machine,Vertical Turning Lathe Machine,CNC Vertical Turning Lathes,CNC VTL Machines,CNC VTL Lathes,CNC VTL Machine
Hengshui Shengyong Heavy-duty Machine Tool Manufacturing Co., Ltd. , http://www.verticallathe-machinetools.com